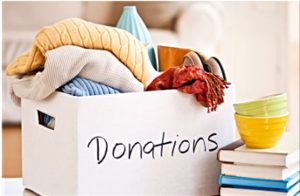 Donation Drives
The donation of tangible items can be a great way to support the mission of Hope's Door New Beginning Center and help the individuals and families that we serve. Our wish list is always up to date with our most urgently needed items. HDNBC holds several donation drives each year to meet seasonal needs of our clients, including school supplies, Thanksgiving meals, and holiday toys/presents.
Urgent Needs List
Gift Cards
Gas Gift Cards
Grocery Gift Cards
Wal-Mart Gift Cards
Monetary Donations
Linens & Towels
Bath Towels
Sheets (twin size)
Washcloths
Food
Pasta (including Ramen and Mac & Cheese)
Pasta Sauce
Peanut Butter
Cereal
Coffee and Tea (decaf or regular)
Canned Goods (fruits, vegetables, meat)
Bottled Water
Boxed/Bottled Juice
Nutrition bars
Laundry Supplies
Detergent (high efficiency)
Cleaning Supplies
Disinfectant Spray
Hand washing Soap (foam)
Dishwasher Soap
409 Spray
Toilet Cleaner
Clorox Wipes
Disposable Cleaning Gloves
Stainless Steel Cleaner
Paper Products
Toilet Paper (septic safe)
Kleenex
Paper Towels
Napkins
Styrofoam Plates
Disposable Cups (16 & 22 oz.)
Plastic Silverware
Hygiene Products
Hair Brushes
Deodorant
Shaving Cream
African Hair Products
Body Wash
Toothpaste
Band-Aids
Feminine Products (tampons & pads)
Body Lotion
Shampoo & Conditioner
Hair Dryers
Baby & Toddler Items
Children's Clothes – boys & girls, 12 mos.,24 mos., 2T, 4T, 5T, 6T, 7 & 8
Children's Shoes (sizes 9 – 13)
Diapers & Pull-ups (all sizes)
Kid's Toothbrushes
Baby Food
Formula
Bibs
Pacifiers
Boys & Women's Clothing
Socks
New Underwear
New Nightgowns/Pajamas
Tennis Shoes for women (size 7 – 10)
Office Supplies
Copy Paper
Pens
Notebooks
Miscellaneous
Batteries
Trash can liners (tall kitchen, lawn and garden)
Umbrella
Waterproof Pillow Protectors (standard size& vinyl)
Waterproof Mattress Cover (Twin bed)
Donation of Goods & Services
Individuals and companies are welcome to donate items and services that help Hope's Door New Beginning Center serve families affected by intimate partner and family violence.
Needed items include:
Clothing (men's, women's, children)
Household items
Linens
Office supplies
Personal hygiene items (full size only)
Furniture
Cleaning supplies
Needed services include:
Printing
Graphic design
Photography
Copy services
Document disposal
Event production services
Unfortunately, due to health/safety concerns, we are unable to accept the following — USED items: mattresses, stuffed toys, linens, pillows, car seats, cribs, undergarments, and bedding.
To make a contribution, please contact Beth Leos at 972.422.2911.
Hope's Door New Beginning Center Resale Stores
Donations are accepted at our Plano resale stores Monday through Saturday, 10:00 AM to 5:00 PM at the rear of the building. At the Garland resale store, donations are accepted Monday-Friday, 1:00 pm-5:00 pm. Pick-up of furniture can be scheduled. Please email our donations coordinator or call your store directly to schedule 972.769.0610 (Plano) and 972.278.9840 (Garland) during business hours.
The Plano Resale Store is located at 2129 W Parker Road (NW corner of Parker and Custer), Suite 300, Plano, Texas 75023.
The Garland Resale Store is located at 120 W Kingsley Road, Garland, Texas, 75040.